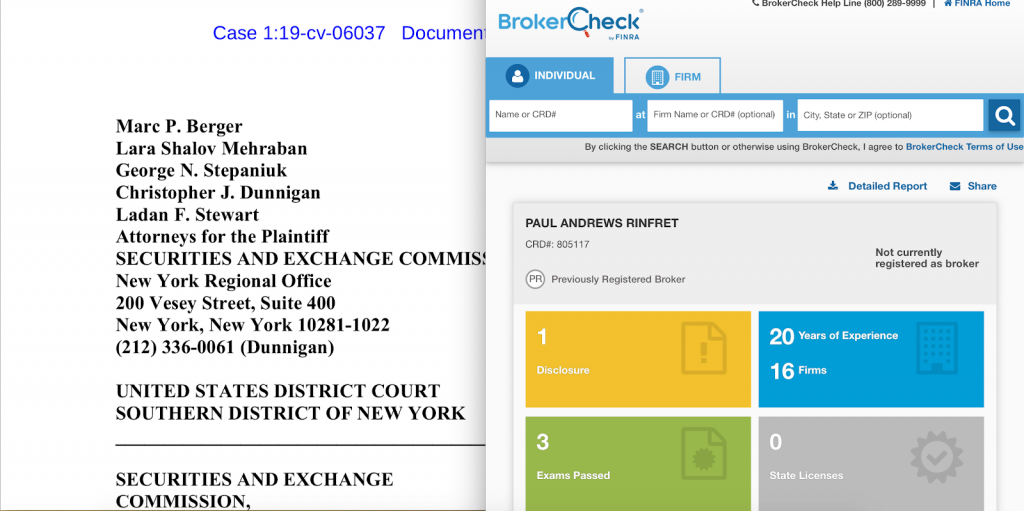 In June 2019, The Securities and Exchange Commission (SEC) filed charges against Paul Rinfret (CRD# 805117) and Plandome Partners LLC, an investment partnership, for defrauding investors of more than $19.3 million.
According to the SEC complaint, "For over five years, Rinfret perpetrated a brazen, multimillion dollar offering fraud scheme, defrauding investors by telling them that they would be investing in a successful trading strategy with a proven track record. What the investors did not know is that Rinfret was in fact an unsuccessful trader, and was employing a carefully crafted web of lies and deception to raise millions of dollars with the intention of using the proceeds to enrich himself and his family."
The SEC alleges that from late 2013 through December 2018, Rinfret defrauded at least five individuals out of a total of $19.3 million by selling them limited partnership interests in Plandome, a purported investment fund operated by Rinfret and Plandome LLC. It is alleged that, "Rinfret told the investors that their money would be used by Plandome to conduct trading in S&P 500 futures contracts and foreign currency. But Rinfret lied to the investors about, among other things, the current performance and historical track record of Plandome's purported trading strategy, its assets under management, and what Rinfret actually planned to do with the investors' money."
It is alleged that Rinfret told the investors that since January 2012, Plandome had been using a proprietary algorithm to day-trade S&P 500 futures contracts, and that this trading strategy had been extremely successful. Rinfret boasted to investors that the trading strategy had generated triple-digit returns as high as 362% for Plandome investors over a multi-year period, and that Plandome had never lost money in a single month since 2012. Rinfret further claimed that Plandome had approximately $25 million in assets under management.
According to the SEC complaint, Rinfret lost money month after month and did not manage $25 million, or anything near that amount. "In reality, Rinfret simply stole much of the money that Plandome received from investors, using millions of dollars of investor funds to pay for personal living expenses and extravagant vacation rentals, lavish parties, jewelry and other luxury goods, make payments to family members, and pay back earlier investors who sought redemptions."
Additionally, it is alleged that Rinfret covered up his scheme by sending investors fabricated monthly account statements showing large profits from trading that either never occurred or had in fact resulted in substantial losses.
In the past, Rinfret was last registered with the following brokerage firms:
Whitaker Securities LLC in New York, New York (09/06/2004 – 06/07/2005)
Utendahl Capital Partners, L.P. in New York, New York (04/11/2003 – 07/19/2004)
Utendahl Capital Partners, L.P. in New York, New York (07/10/2000 – 04/16/2001)
Previously, in January 1991, Rinfret was sanctioned to pay a monetary fine of $50,000 by the New York Stock Exchange alleging that," he engaged in conduct inconsistent with just and equitable principles of trade in that he: improperly caused his member organization employer to effect securities transactions with customers at prices higher that the then current market thereby concealing the existence of losses on its books and records and failed to disclose to his employer that he had made commitments to customers to repurchase securities at prices in excess of the prices at which those customers purchased the securities."
Erez Law represents investors in the United States for claims against brokers and brokerage firms for wrongdoing. If and have experienced investment losses, please call us at 888-840-1571 or complete our contact form for a free consultation. Erez Law is a nationally recognized law firm representing individuals, trusts, corporations and institutions in claims against brokerage firms, banks and insurance companies on a contingency fee basis.
"*" indicates required fields