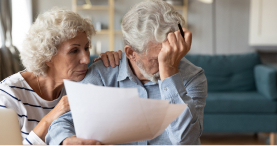 Recovering from fraud can be traumatic and painful. You spent your life investing your money so it would grow for your future. When your money disappears, so does your trust in a broker and future plans. When your trust shatters, putting the pieces back together can be challenging. Unfortunately, the legal framework for handling fraudulent securities is complicated.
At Erez Law, PLLC, we want to help you understand securities fraud and how you can take action to report it.
What Is Securities Fraud?
Securities fraud is more commonly known as stock or investment fraud. It is a form of white-collar crime that generally involves misrepresenting information to investors. Thus, investors do not have correct or adequate information to make informed decisions.
Those who commit securities fraud can be individuals like stockbrokers or large-scale organizations like brokerage firms, corporations, or investment banks.
Common Types of Securities Fraud Violations
"Securities fraud" is a phrase that covers a range of illegal activities. According to the Federal Bureau of Investigation, some of the most common types of securities fraud violations include:
Ponzi and pyramid schemes
High-yield investment fraud
Hedge-fund fraud
Advance-fee plans
"Pump and dump" plans
Late day trading
Foreign currency fraud
Broker embezzlement
How to Report Securities Fraud
Reporting securities fraud can be daunting. You may feel anxious and overwhelmed by the process or potential repercussions. Thankfully, there are avenues to make reporting securities fraud straightforward and secure.
How a Securities Fraud Lawyer Can Help
The legal team at Erez Law, PLLC has recovered over $200 million on behalf of our clients. Our experienced attorneys have the in-depth knowledge and resources to help you seek justice. At Erez Law PLLC, we can help you by:
Completing a detailed review of your financial situation
Thoroughly investigating your claim
Collecting evidence and documentation of financial wrongdoing
Hiring respected financial experts to provide testimony on your behalf
Preparing for and attending your FINRA arbitration
Don't stand by and watch your dreams go down the drain. Protect yourself and discuss your situation with an aggressive securities fraud attorney.
Contact a Securities Fraud Attorney Today
If you believe you are the victim of securities fraud, take a stand and contact a seasoned securities fraud attorney immediately. At Erez Law, PLLC, we want to protect you, your family, and your future.
Contact our office today to set up a free and confidential case review. Our compassionate team wants to help put you back on the right financial path.
"*" indicates required fields