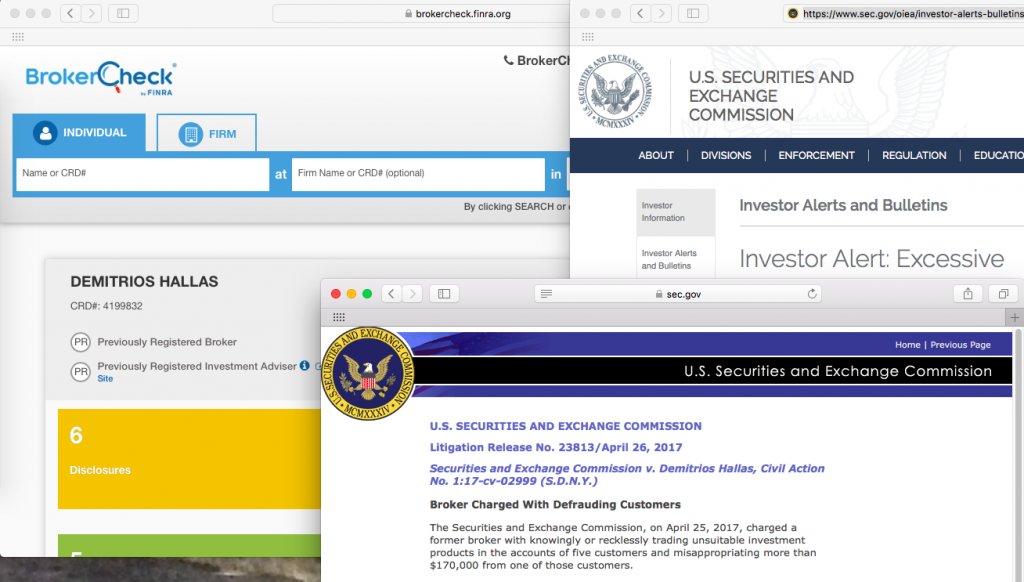 Erez Law is currently investigating financial advisor Demitrios Hallas (CRD# 4199832) regarding excessive trading and churning in customer accounts. Hallas was last registered with PHX Financial, Inc. in New York, New York in from August to December 2015. Previously he was registered with the following brokerage firms, to name just a few:
Forefront Capital Markets LLC in New York, New York (October 2014-July 2015)
Santander Securities LLC in New York, New York (May 2013-June 2014)
Aegis Capital Corp. in New York, New York (July 2012-May 2013)
Chase Investment Services Corp. in New York, New York (June 2011-March 2012)
PNC Investments in New York, New York (July 2010-June 2011)
Chase Investment Services Corp. (May 2008-June 2010)
Hallas was terminated from his employment at Chase Investment Services Corp. in February 2012 regarding," Job performance, including customer complaints alleging unauthorized trades and failure to disclose fees."
In April 2017, the Securities and Exchange Commission (SEC) charged Hallas with "knowingly or recklessly trading unsuitable investment products in the accounts of five customers and misappropriating more than $170,000 from one of those customers," according to the SEC complaint. The complaint alleges that Hallas repeatedly traded unsuitable investments in customer accounts, which exposed the unsophisticated customers to significant risk and market volatility. It is alleged that about a year's time, Hallas traded 179 daily risky and complex leveraged exchange traded funds (ETFs) and exchange traded notes (ETNs) in customer accounts, and generated $128,0000 in commissions and fees, resulting in a net loss of $150,000 across all customer accounts. It is also alleged that Hallas misappropriated more than $170,000 in funds from a customer, using customer funds for personal use such as student loan payments, credit card debt, rent and bar and restaurant bills, instead of using them to invest on his customers' behalves.
FINRA suspended Hallas in from April to June 2016 after he failed to respond to a FINRA request for information.
In May 2014, FINRA suspended Hallas for 30 days and ordered him to pay civil and administrative penalties and fees in the amount of $5,000 and $6,110 in restitution after he was named a respondent in a FINRA complaint. The complaint alleged that Hallas recommended that a customer surrender her fixed annuity and invest the proceeds in the bond fund, without ascertaining whether the she would incur a surrender charge for liquidating the annuity. According to the complaint, "Hallas had no reason to believe that the bond fund would provide greater financial benefit to the customer than the fixed annuity despite knowing that it exposed the customer to greater risk than the fixed annuity." After the customer switched investments, she incurred surrender and sales charges and suffered tax consequences.
The complaint also alleges that Hallas recommended another customer partially liquidate a unit investment trusts (UIT) and invest in a bond fund, which gave the customer exposure to municipal bonds with the same purpose of the UIT to produce tax-free income. As a result of this change, the customer incurred a sales charge.
Hallas has also been the subject of two customer complaints, one of which was denied, between 2011 and 2015, according to his CRD report:
October 2015. "Client alleges unethical practices with the exchange of a variable annuity which resulted in a taxable event." The client sought $14,000 in damages and the case was settled for $12,496.22.
Pursuant to FINRA Rules, member firms are responsible for supervising a broker's activities during the time the broker is registered with the firm. Therefore, his former employers may be liable for investment or other losses suffered by Hallas' customers.
Erez Law represents investors in the United States for claims against financial advisor Demitrios Hallas, who is alleged to make excessive trades and churn in customer accounts. If you were a client of financial advisor Demitrios Hallas or another firm, and have experienced investment losses, please call us at 888-840-1571 or complete our contact form for a free consultation. Erez Law is a nationally recognized law firm representing individuals, trusts, corporations and institutions in claims against brokerage firms, banks and insurance companies on a contingency fee basis.
"*" indicates required fields