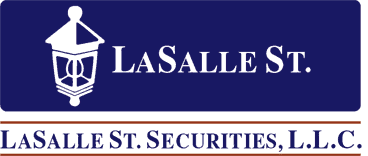 Erez Law is currently investigating LaSalle St. Securities, L.L.C. financial advisor Joel Martin Weiner (CRD# 1648997) regarding unsuitable investments and an unapproved outside business activity. Weiner has been registered with LaSalle St. Securities, L.L.C. in Boynton Beach, Florida from 1995 to 2014.
In December 2016, FINRA barred Weiner after he consented to the sanction based on the fact that he received compensation from an outside business activity without providing prior notice to LaSalle St. Securities, L.L.C. It is alleged that Weiner "recommended that a large, religiously-affiliated institutional customer commit funds to an outside business owned by a registered representative of his firm whom Weiner supervised."
Based on Weiner's recommendation, his customer provided $2.6 million in funds to the outside business, which facilitated high risk loans to small and start-up businesses. Weiner maintained discretion over the customer's accounts to commit the funds and helped the customer set up the bank account used to fund the loans. Weiner received about $65,000 in finder's fees related to these transactions. It is also alleged that Weiner provided inaccurate responses about the business activities on his firm's annual compliance questionnaires. When stockbroker's recommend investments to their customers not approved by their employing brokerage firm it is called "selling away."
Weiner has been the subject of one customer complaint, according to his CRD report:
July 2015. "Unsuitable investments November 2013 – March 2014." The client sought $2,329,000 in damages and the case was settled for $210,000.
Pursuant to FINRA Rules, member firms are responsible for supervising a broker's activities during the time the broker is registered with the firm. Therefore, LaSalle St. Securities, L.L.C. may be liable for investment or other losses suffered by Weiner's customers.
Erez Law represents investors in the United States for claims against LaSalle St. Securities, L.L.C. financial advisor Joel Martin Weiner, who is alleged to recommend unsuitable investments and facilitate investments in an unapproved outside business activity or selling away. If you were a client of LaSalle St. Securities, L.L.C. financial advisor Joel Martin Weiner or another firm, and have experienced investment losses, please call us at 888-840-1571 or complete our contact form for a free consultation. Erez Law is a nationally recognized law firm representing individuals, trusts, corporations and institutions in claims against brokerage firms, banks and insurance companies on a contingency fee basis.
"*" indicates required fields