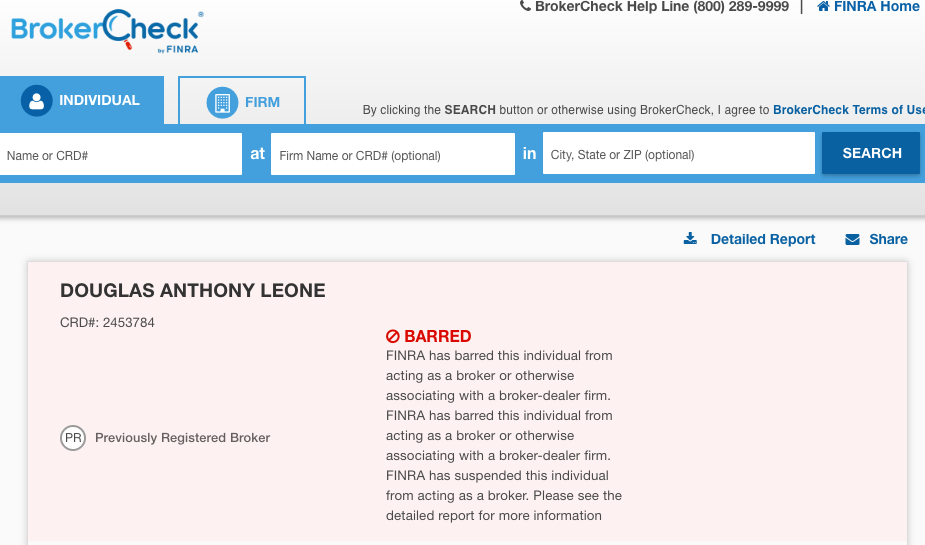 There are options for customers of former Salomon Whitney Financial financial advisor Douglas Leone (CRD# 2453784) regarding unsuitable recommendations and excessive trading involving multiple customers. Leone was registered with Salomon Whitney Financial in Melville, New York from 2013 until March 2017.
In May 2018, FINRA barred Leone after he failed to appear and provide FINRA on-the-record testimony in connection with its investigation into Leone's potential misconduct while at his member firm involving, among other things, unsuitable recommendations and excessive trading involving multiple customers.
In May 2017, FINRA suspended Leone after he failed to respond to FINRA request for information.
In July 2014, Leone was named a respondent in a FINRA complaint alleging that he, with his member firm and other firm representatives, excessively traded and churned customers' accounts. According to the complaint, "Leone, the firm and the other representatives engaged in a manipulative, deceptive and fraudulent scheme by churning the accounts of customers. They acted with intent to defraud and/or with reckless disregard of their customers' interests by seeking to maximize their own remuneration in disregard of the interests of their customers."
According to the FINRA complaint:
the misconduct should have quickly drawn scrutiny, and been stopped, because cost-to-equity ratios were often over 100 percent;
turnover rates were often over 100;
there were extraordinary amounts of in-and-out trading; customer accounts were highly margined and often concentrated in one security;
there were large numbers of transactions in which the total commission/markup per trade exceeded three percent and, in many instances, exceeded four percent;
there was a deceptive mix of riskless principal and agency trading in numerous accounts, namely, higher cost trades in which markups almost always exceeded three percent (and generally exceeded $1,000 per trade) were executed on a riskless principal basis whereas lower cost trades, typically involving sales of the same securities, were executed on an agency basis;
inverse and/or leveraged exchange traded funds (ETFs) and exchange traded notes (ETNs) remained in accounts for multiple trading sessions;
solicited trades were inaccurately characterized as unsolicited;
and nearly all of the customer accounts at issue exhibited large losses.
Leone has been the subject of nine customer complaints between 1998 and 2019, two of which were closed without action, according to his CRD report. Recent complaints include:
April 2019. "Claimant alleges excessive trading on margin with no downside protection, False and misleading statements regard the risks of his investments, the churning of his account, breach of fiduciary duty, breach of contract, gross negligence, and suitability." The customer is seeking $250,000 in this pending complaint.
April 2018. "Churning, negligence, unsuitability, unauthorized trading, breach of contract." The customer is seeking $22,623 in damages and the case is currently pending.
March 2012. "Alleged breach of fiduciary duty, negligence, breach of contract." The customer sought $145,000 in damages and the case was settled for $70,000.
January 2012. "Alleged churning, misrepresentation, breach of fiduciary duty." The customer sought $77,000 in damages and the case was settled for $9,999.
Pursuant to FINRA Rules, member firms are responsible for supervising a broker's activities during the time the broker is registered with the firm. Therefore, Salomon Whitney Financial may be liable for investment or other losses suffered by Leone's customers.
Erez Law represents investors in the United States for claims against brokers and brokerage firms for wrongdoing. If and have experienced investment losses, please call us at 888-840-1571 or complete our contact form for a free consultation. Erez Law is a nationally recognized law firm representing individuals, trusts, corporations and institutions in claims against brokerage firms, banks and insurance companies on a contingency fee basis.
"*" indicates required fields