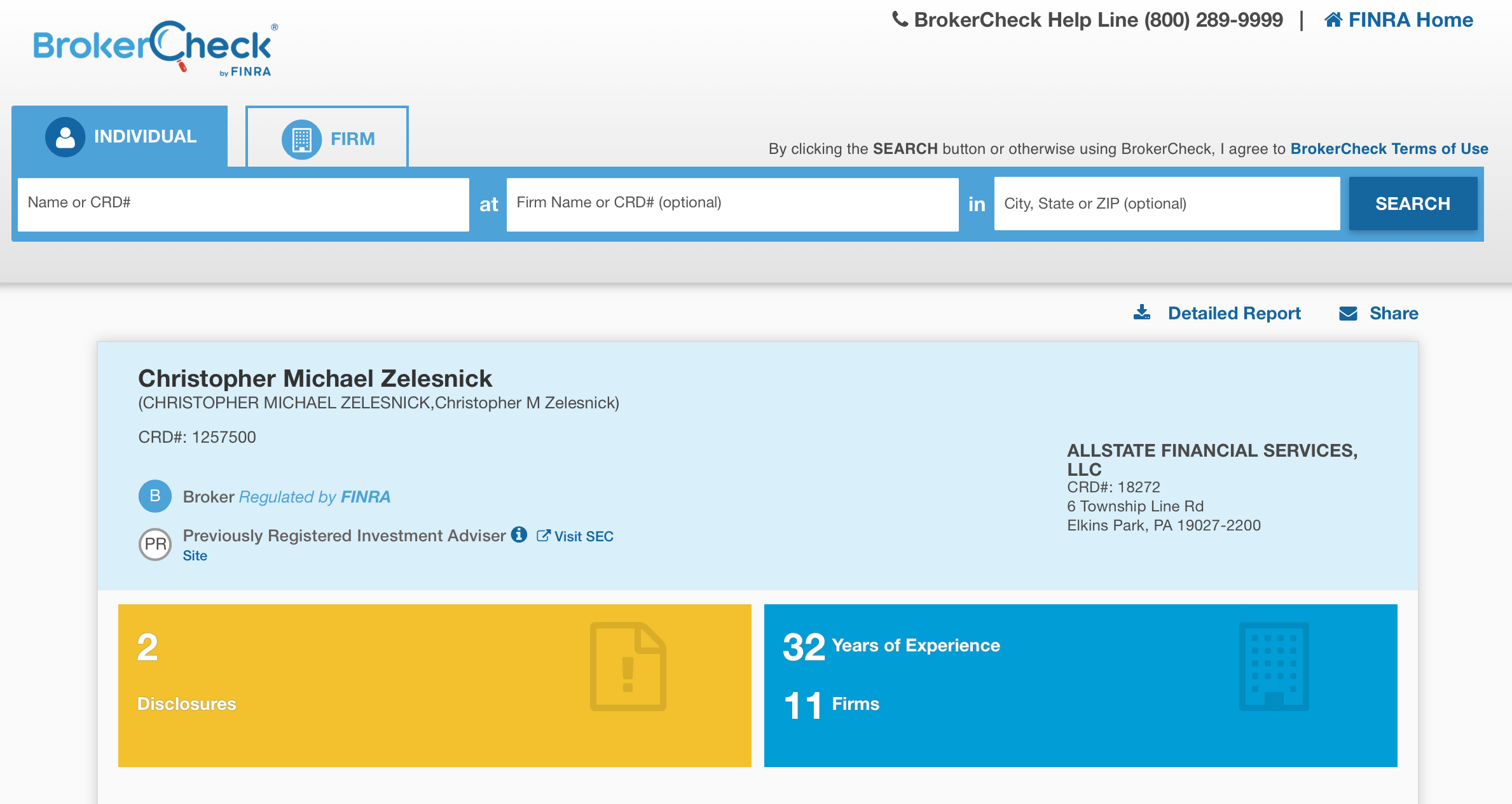 Erez Law is currently investigating former Impactive Advisors LLC broker Christopher Zelesnick (CRD# 1257500) regarding investment losses due to private placements. Zelesnick has been registered with Allstate Financial Services, LLC in Elkins Park, Pennsylvania since May 2018. Previously, Zelesnick was registered with LPL Financial LLC in Braintree, Massachusetts from 2014 to 2015 and then with Impactive Advisors LLC in Nashville, Tennessee from 2015 to 2017.
Zelesnick has been the subject of two customer complaints between 1994 and 2019, according to his CRD report. The most recent complaint is regarding:
April 2019. "The action arises out of a fraudulent scheme orchestrated by others from 2013 to 2017. The Plaintiffs allege that Defendants received misappropriated funds knowing, or with reckless disregard for the truth, that the monies were fraudulently obtained in furtherance of the scheme. The Plaintiffs allege that Defendants have wrongfully and intentionally exercised and have conspired to exercise dominion and control over monies and funds provided by Plaintiffs, amounting to conversion. The Plaintiffs allege that all payments made to Christopher Zelesnick were derived from monies invested by the Plaintiffs." The customer is seeking $7,250,000 in damages and the case is currently pending. This case is regarding private placements.
Pursuant to FINRA Rules, member firms are responsible for supervising a broker's activities during the time the broker is registered with the firm. Therefore, Impactive Advisors LLC may be liable for investment or other losses suffered by Zelesnick's customers.
Erez Law represents investors in the United States for claims against brokers and brokerage firms for wrongdoing. If and have experienced investment losses, please call us at 888-840-1571 or complete our contact form for a free consultation. Erez Law is a nationally recognized law firm representing individuals, trusts, corporations and institutions in claims against brokerage firms, banks and insurance companies on a contingency fee basis.
"*" indicates required fields