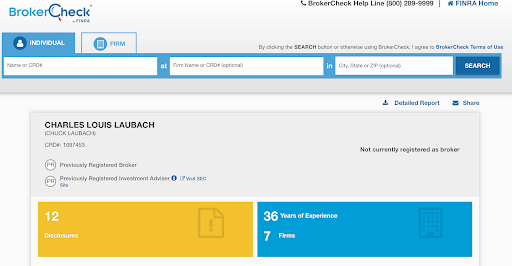 Erez Law is currently investigating Maryland broker Charles Laubach (CRD# 1097453) for investment losses. Laubach has been registered with Capital Portfolio Management, Inc. in Timonium, Maryland from 2016 to August 2019, when he was terminated regarding, "Failure to follow heightened supervision. Suspension for implied discretion in customer accounts." Previously, Laubach was registered with Chapin, Davis in Baltimore, Maryland from 2015 to 2016, when he was terminated regarding, "Mis-marking transactions tickets and failure to follow written supervisory procedures." Prior to that, Laubach was registered with Ameriprise Financial Services, Inc. in Timonium, Maryland from 2012 to 2015, when he was terminated regarding, "registered representative was discharged for violation of company policy related the firm's solicitation policy of equity securities and mismarking of trade tickets."
In September 2019, FINRA revoked Laubach's registration following allegations that "Respondent Laubach failed to pay fines and/or costs of $5,000.00 in FINRA Case #2018057298401."
In July 2019, FINRA suspended Laubach for 10 days and sanctioned him to a $5,000 civil and administrative penalty after he consented to the sanctions and to the entry of findings that he effected discretionary transactions in the accounts of customers without obtaining prior written authorization from the customers, and without his member firm having accepted the accounts as discretionary.
In July 2018, Laubach failed to fully comply with a licensing order and was sanctioned to withdraw his license in the state of Colorado, and he was ordered to not re-apply for licensure. According to his BrokerCheck, "Colorado exam deficiencies were: No notification of discretionary accounts: Laubach had none. No notification of terminated clients: None terminated. Insufficient documentation for the 7 trades conducted. All documents provided to Colorado including signed documents from the clients acknowledging the trades. The 2 existing clients were not notified of all u4 disclosures. The 2 customers affirmed awareness of disclosures and directed to broker check to conduct a further review. Laubach voluntarily withdrew from Colorado."
In October 2016, the Colorado Division of Securities alleged, "See the language from the Stipulation for Licensing Order No. 2017-CDS-002, paragraph 1.(f.). Mr. Laubach was terminated for mismarking trade tickets and failing to follow written supervisory procedures." Laubach's license was subject to restrictions/conditions, license made effective pursuant to a licensing order.
Laubach has been the subject of five customer complaints between 1991 and 2017, according to his CRD report. Four previous customer complaints were settled. The most recent complaint is regarding:
March 2017. "Customers were not properly credited with their dividend election from GSV Capital Corp." The case is currently pending. This case was regarding equity OTC and took place while Laubach was registered with Chapin, Davis.
Pursuant to FINRA Rules, member firms are responsible for supervising a broker's activities during the time the broker is registered with the firm. Therefore, Capital Portfolio Management, Inc., Ameriprise Financial Services, Inc., and Chapin, Davis may be liable for investment or other losses suffered by Laubach's customers.
Erez Law represents investors in the United States for claims against brokers and brokerage firms for wrongdoing. If and have experienced investment losses, please call us at 888-840-1571 or complete our contact form for a free consultation. Erez Law is a nationally recognized law firm representing individuals, trusts, corporations and institutions in claims against brokerage firms, banks and insurance companies on a contingency fee basis.
"*" indicates required fields